Understand the difference between Visa on arrival, regular Visa and India E-visa
Visa is a permit to enter a foreign country. It makes your entry valid and legal for a specific duration and it is compulsory to get a visa to visit any country across the world. Additionally, there are various types of visas available to choose from and the major three visa types are; Visa on Arrival, Regular Visa and Electronic or online visa. If you are preparing to visit India recently, this post is a must-read for understanding the different Indian visa types, their limitations, and other important aspects. And, here you will get the idea; why Indian e- visa is widely recommended to foreign tourists.
What does Visa on Arrival (VoA) mean?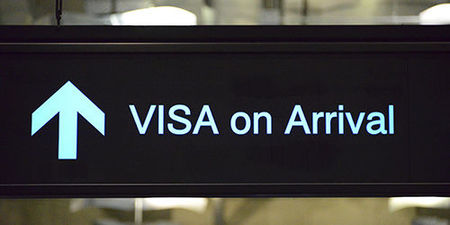 Visa on Arrival: Visa on arrival as the name suggests, is issued once you enter into the respective country. It is usually opted by people who are visiting the country for the sake of holidaying or tour purposes. So with Visa on Arrival, you need to get off your flight and move to visa counter for getting a visa. Furthermore, apply from the visa counter, pay the fees and get it stamped there itself. And, no prior measures are needed to be taken. However, VOA has various entry limitations depending upon the country you are visiting. Next, you got the specific entry points from where you can land to get the VOA usually airport. Without the visa stamped on your passport, you cannot cross the border to enter the country.
The person needs to provide return flight tickets, hotel reservations proof, sufficient funds to cover the stay, passport-size photographs, a passport with empty pages and fee for visa.
Limitations of Visa on arrival Facility:
There are very few countries that offer the "visa on arrival scheme". So, the applicant first needs to check that the country he/she is visiting, must be allowing the VOA scheme.
The requirements of VOA keep changing even without any formal notice, so one needs to check for the latest requirements and guidelines before proceeding the travel.
Though Visa on arrival is less complex to get, you have to do some homework before boarding your flight to the destined country.
Fees vary from country to county, and it is only accepted in cash in most of the countries. But it is required to be a little attentive before paying anything on the airport as there are various scams have been reported so far in the case of VOA for different countries.
What is Regular Visa India?
Regular visa: If you are looking to stay for a longer period of time in a country-specific, it is advised to opt for a regular visa. This visa type has the most lengthy application process as you need to visit the Indian embassy physically. Also, it is higher at the price-point.
Process to Get Regular Visa
To get a regular visa of India, a general application method is followed i.e. you first need to fill an application form and create a profile to schedule the appointment with embassy. Visit the embassy for documentation and fingerprint and photograph attestation. Then attend the interview session. Then the visa is usually sent by courier and you personally need to receive the letter.
Limitations And Difference between Regular Visa and E-Visa :
It is a lengthy process to get a regular visa as compared to Indian e-visa. You need to go through numerous steps to attain the visa. So, people who are running out of time may find it very bothersome.
The documentation process is quite strict and you need a long list of documents to prove your eligibility. This can be a turn off for many applicants
You need to wait in long queues to get the photograph and fingerprint attestation done.
Unlike an electronic visa, the application process cannot be completed online and you have to be physically present in the embassy for documentation.
What is an E visa?
E-visa: An electronic visa or Online visa is the most modern form of visa which is applied online sitting at your place. No physical appointments are required and it takes less time to get approval for India e-visa than that of a regular visa. It is the simplest visa type that serves the best for short trips.
E-visa is further divided into three different types namely e-tourist Visa, e-business visa, e-medical Visa, and e-conference visa. "Indian e-visa scheme" is known to be the best as Indian Tourism Ministry is actively working on the improvement of e-visa policies.
The e-visa application is quite simple, you just need to fill the online form, attach the documents, pay the fee and wait for the visa approval which you receive between 5 to 7 days.
Also, with e-visa, you exclusively get two processing options namely normal processing and urgent processing. So, this is the best visa type that suits people traveling for a shorter duration.
Limitations of E-Visa India:
You need to be aware of online scams and use the official website only.
The visa fee is refundable and hence one needs to apply with great care.
Conclusion:
Among all three visa types, India e-visa is the best as it includes a lot more convenience than the rest of the two have. So, if you are planning a short international trip, go for the electronic form of visa, especially when you are coming to India.
Read More: What Activities are Permitted Under Different India e-Visa?